AY2020 Intelligent Services: A Social Perspective workshop
TAC-MI held a two-day online event entitled "Intelligent Services: A Social Perspective" on December 8 and 9, 2020 to brainstorm new social services for the future.
During this event, held annually, students aim to develop a broad perspective and boost their leadership skills by considering solutions to issues in future society. TAC-MI students, overseas students, and young industry researchers form groups, identify issues in future society, and discuss and propose solutions to these issues while applying knowledge and experience from their own research fields.
In the December workshop, nineteen 1st-year doctoral students from TAC-MI and six young researchers from industry gathered to focus on "Envisioning a future society 10 years from now that discourages division by creating new value through materials and informatics." Division was interpreted broadly as any societal issue including disparity in medical and educational opportunities, suppression of values and cultures, racial gaps, alienation of the elderly and disabled, or inequality or alienation due to gender.
Visualizing ideas with the help of graphic recorders
The first day began with an explanation of the workshop objectives and self-introductions by the participants. After this, Akira Hirakawa, cofounder of Red Dot Drone PTE. LTD., gave a special lecture on business opportunities created by developing remote control technology for drones.
After the lecture, participants split into six online breakout rooms for group work. The teams began their discussions by referring to the Future Scenarios created with the public at the Laboratory for Design of Social Innovation in Global Networks (DLab), envisioning the kind of world they wanted to realize and the social divisions that should be resolved to realize such a world. After ideas were shared, each group decided on the social division they would focus on. As group work began, graphic recorders joined the teams to create visual representations of the participants' ideas. At the end of the first day, each group created a roadmap for the next 10 years, presenting it to and receiving feedback from faculty members and facilitators.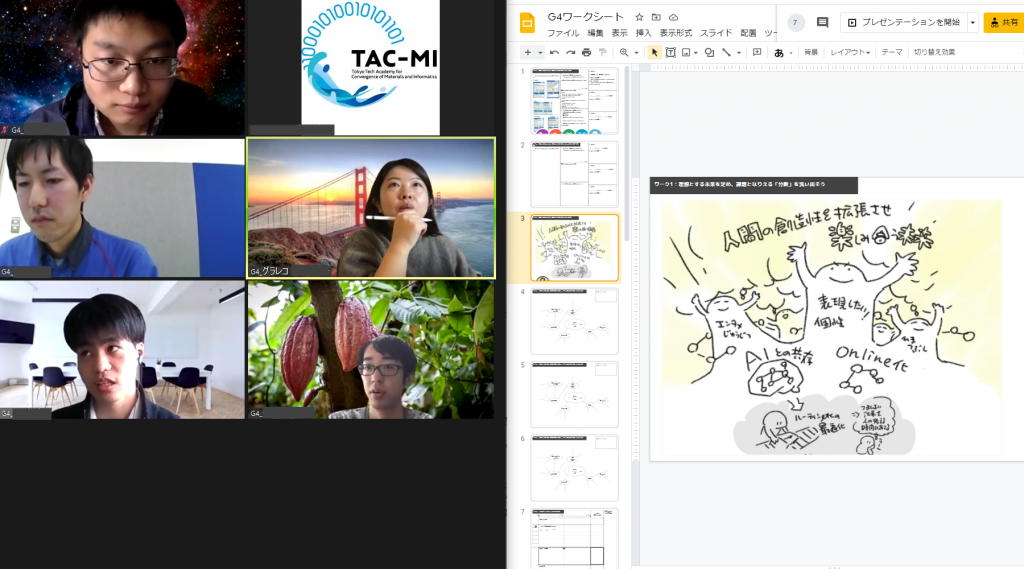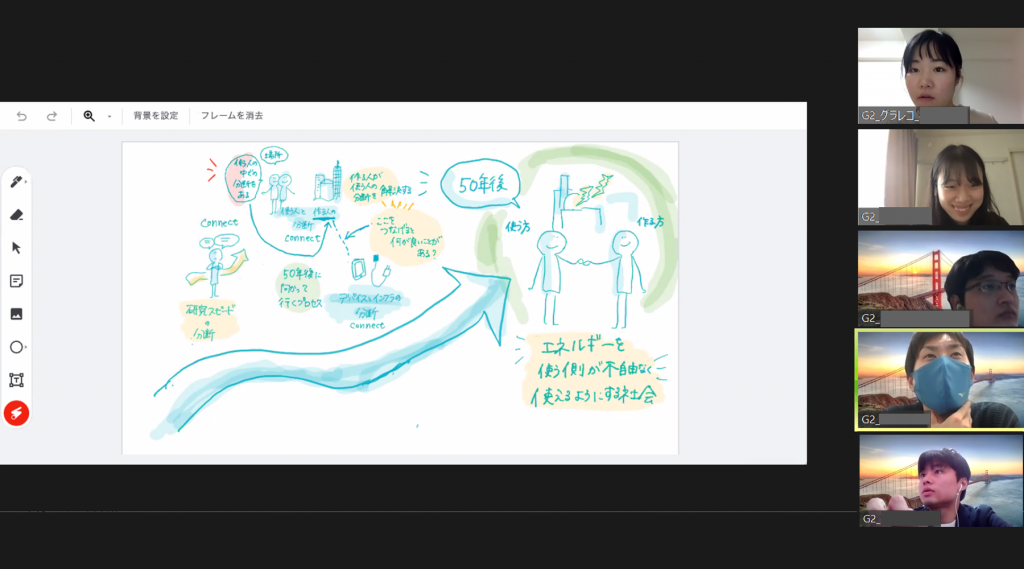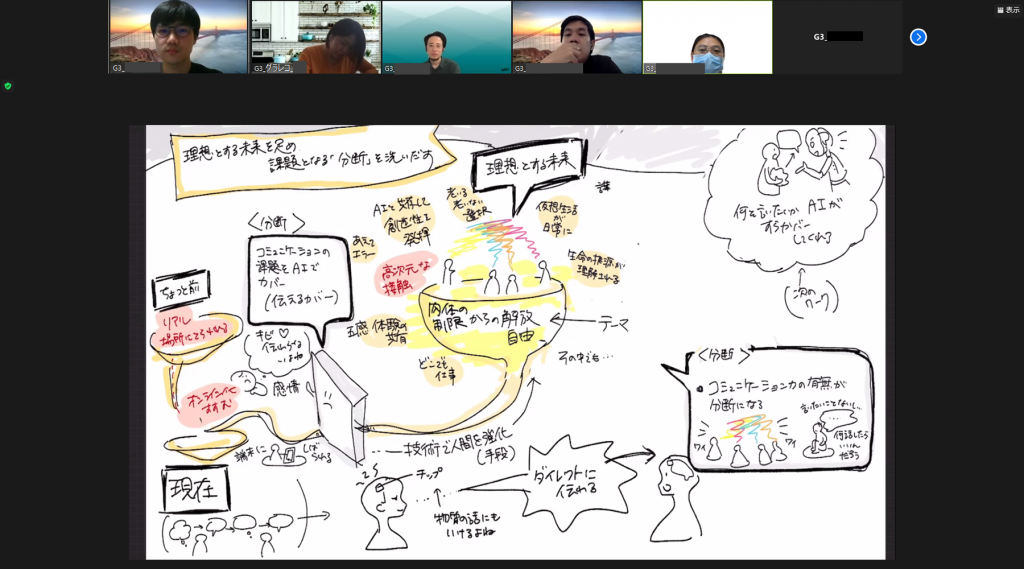 Final presentations and awards
On the second day, each group enhanced their future visions and prepared them further for the final presentations. Approximately 100 participants, including TAC-MI program staff members, Tokyo Tech Executive Vice President for Education Tetsuya Mizumoto, industrial collaborators, and 2nd-year doctoral and master's students of TAC-MI joined the session to listen to the final talks. After all six groups had spoken, a judging committee awarded the Innovation Award, the Best Idea Award, and the Societal Impact Award to the following groups.
【Award Winners】
| | |
| --- | --- |
| Innovative Award | Group3 |
| Best Idea Award | Group6 |
| Societal Impact Award | Group4 |
【Images of future society 10 years from now】
Group1

Group2

Group3

Group4

Group5
Group6

Valuable input by industry researchers
While the 2019 version of this event focused on creating business models with international students, the December 2020 session was stimulated by fresh perspectives thanks to the involvement of emerging corporate researchers. The participation of real-time graphic recorders in these sessions also helped expand and concretize ideas effectively. Despite the challenges of holding the 2020 session online due to COVID-19, outcomes more than met preliminary expectations.