TAC-MI master's students share research findings, receive career guidance from member companies
TAC-MI held an online session on September 28, 2020 for master's students to present their latest research findings and receive career guidance from TAC-MI member companies. The presentation session was the second event of its kind this academic year after doctoral students presented their research to a diverse audience in June 2020.
In the first part of the September event, 20 master's students gave poster presentations. Tuning in to the talks were approximately 100 TAC-MI program staff members, students, and industrial collaborators. In the second part, TAC-MI students held interviews and received advice from their industrial mentors. The third part was an industry-academic exchange event, during which 22 TAC-MI member companies introduced themselves while providing career education sessions to TAC-MI students.
Program
Part 1
Poster presentations by master' students
Part 2
TAC-MI students interview with industrial mentors
Part 3
Industry-academia exchange event:
Company introduction for career education to TAC-MI students
Part 1: Poster presentations of research findings by master's students
After brief opening words from School of Materials and Chemical Technology Dean Masahiro Susa and TAC-MI Director Takeo Yamaguchi, followed by some guidance by TAC-MI's Professor Susumu Kawauchi, the online poster presentations kicked off.
Ten breakout sessions were created on Zoom as presentations rooms, with 10 master's students presenting during the first hour, and another 10 presenting during the second hour. Each student gave three 20-minute presentations.
At the beginning of each presentation, the students explained the background of their projects, ensuring that even non-specialized audiences would understand the significance of their research. As their talks progressed, many students found effective ways of presenting their poster-materials, realizing the benefits of working in an online environment. Some were able to zoom in on specific descriptions to provide the audience with a clearer view of their work. Many also noted that online audiences can tune in more carefully, unlike at in-person presentations, particularly if they are crowded.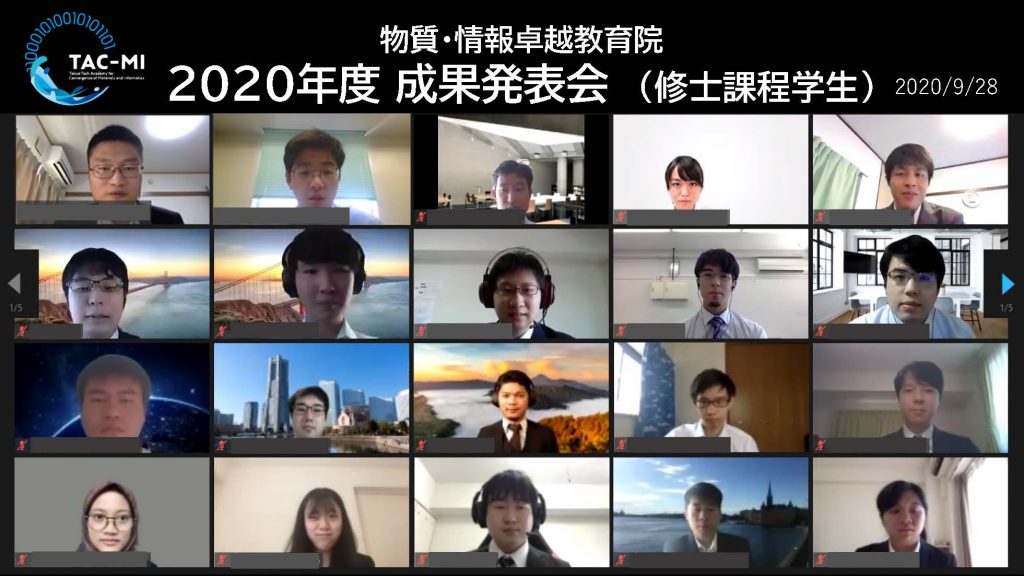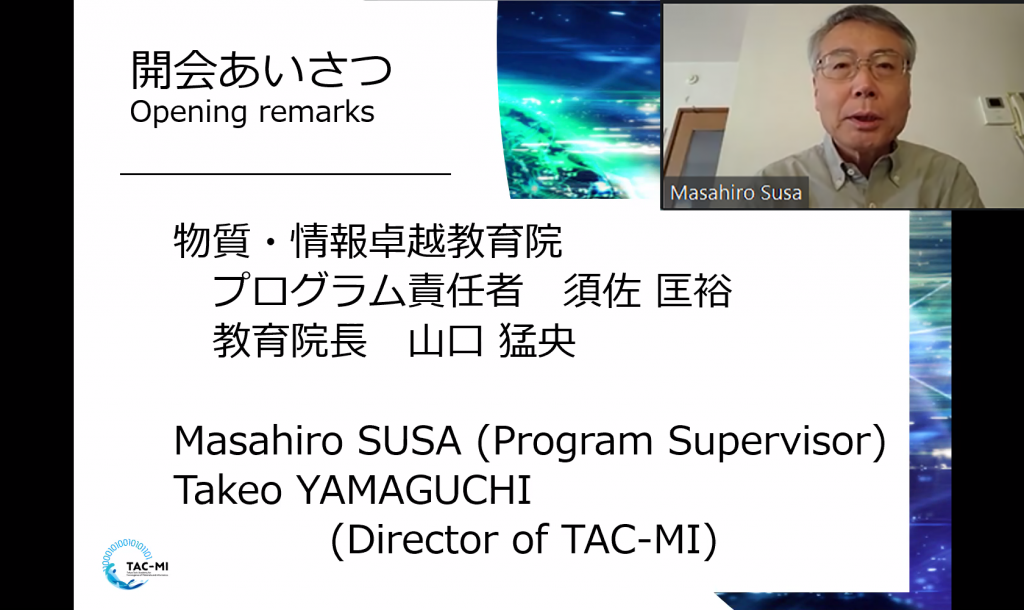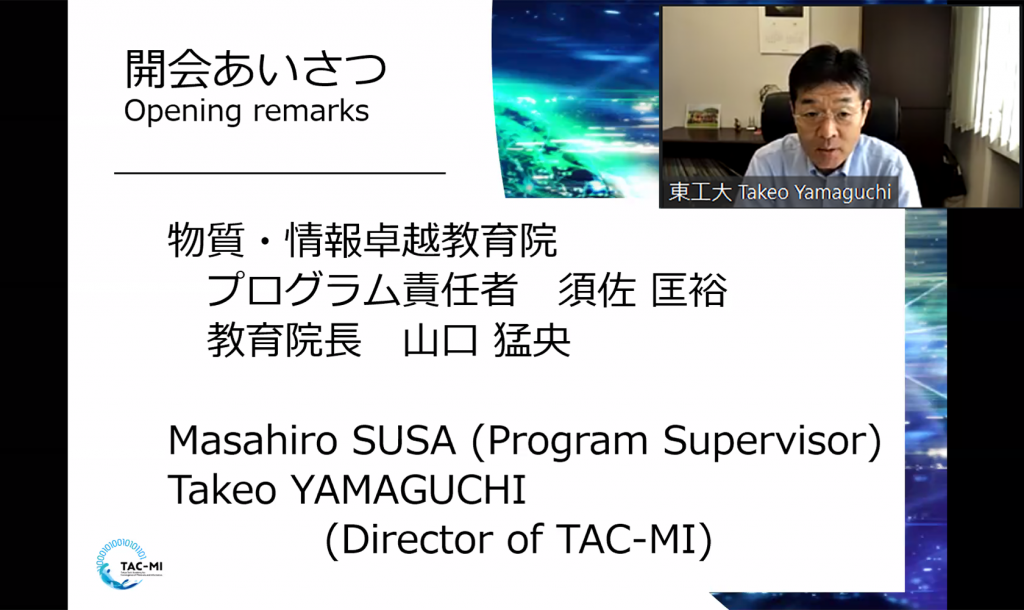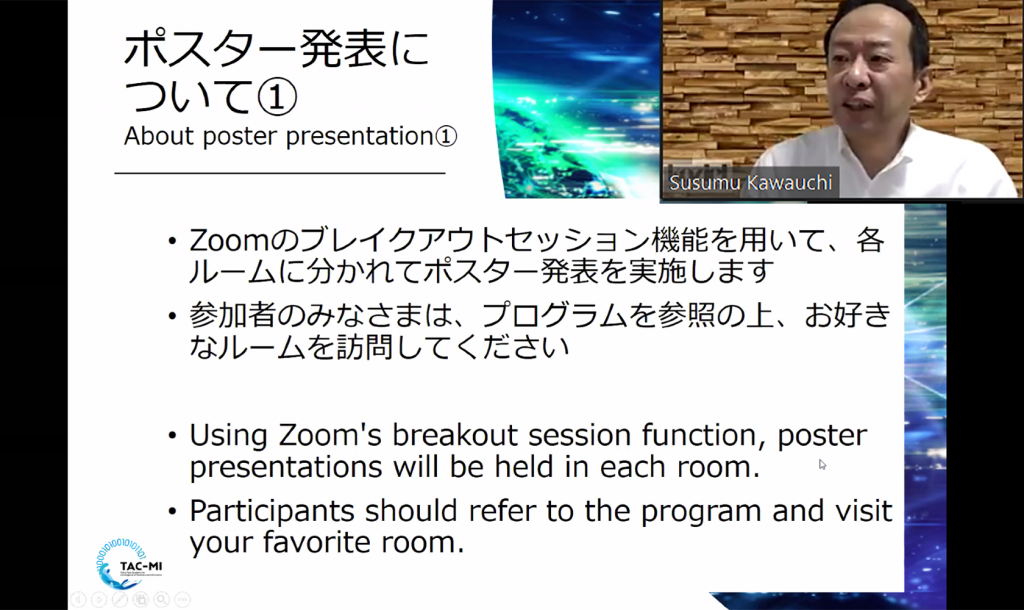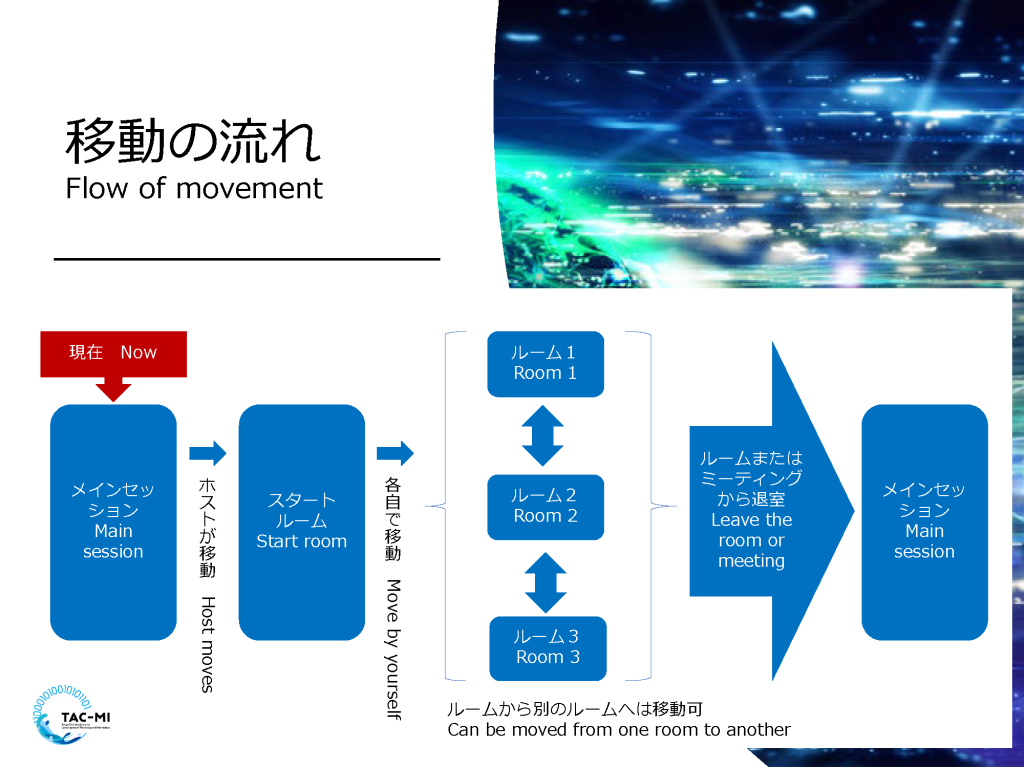 Part 2: TAC-MI students' interviews with industrial mentors
In the second part of the event, students held interviews with and received advice from their industrial mentors. TAC-MI students have the advantage of evaluating their strengths and weakness in face-to-face meetings with researchers, developers, technical experts, product planners, and marketing professionals from various industries. One industrial mentor is assigned to each student. Throughout the duration of this program, each student has an industrial mentor who continuously guides the student from enrollment to program completion. Master's students meet their mentors once a year, while doctoral students meet professionals twice a year.
Part 3: Company introductions and career education for TAC-MI students
The final part of the day was an industry-academia exchange event, during which 22 TAC-MI member companies introduced themselves for the purpose of career education to TAC-MI students. This event, too, was conducted using Zoom breakout sessions, during which the companies introduced themselves in each room.
"This was a good opportunity to talk about our stance on hiring doctoral students, and jobs and careers after the hiring process," one industrial collaborator commented. "Furthermore, it was very meaningful because many questions were asked by the students."
"It was extremely helpful to hear introductions from various companies," students concluded.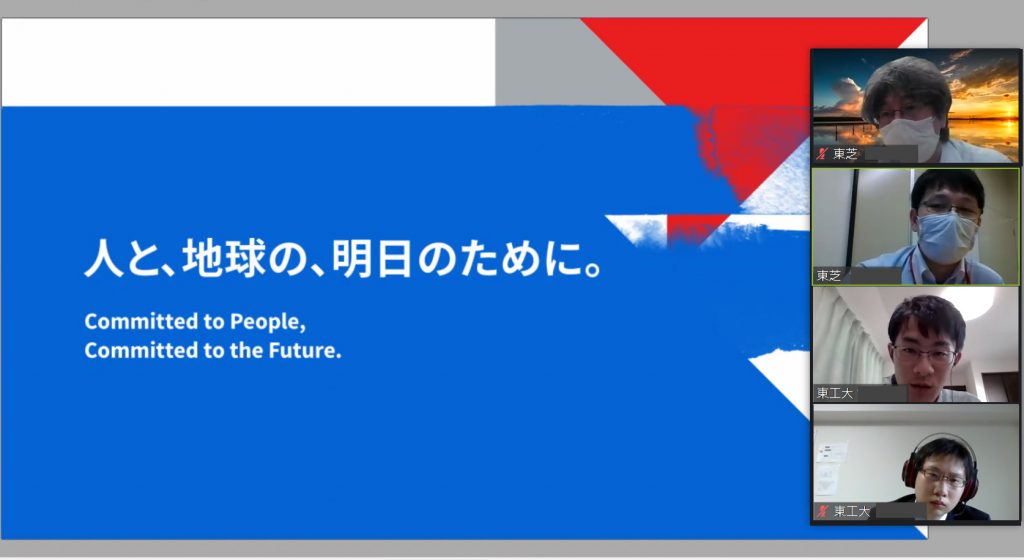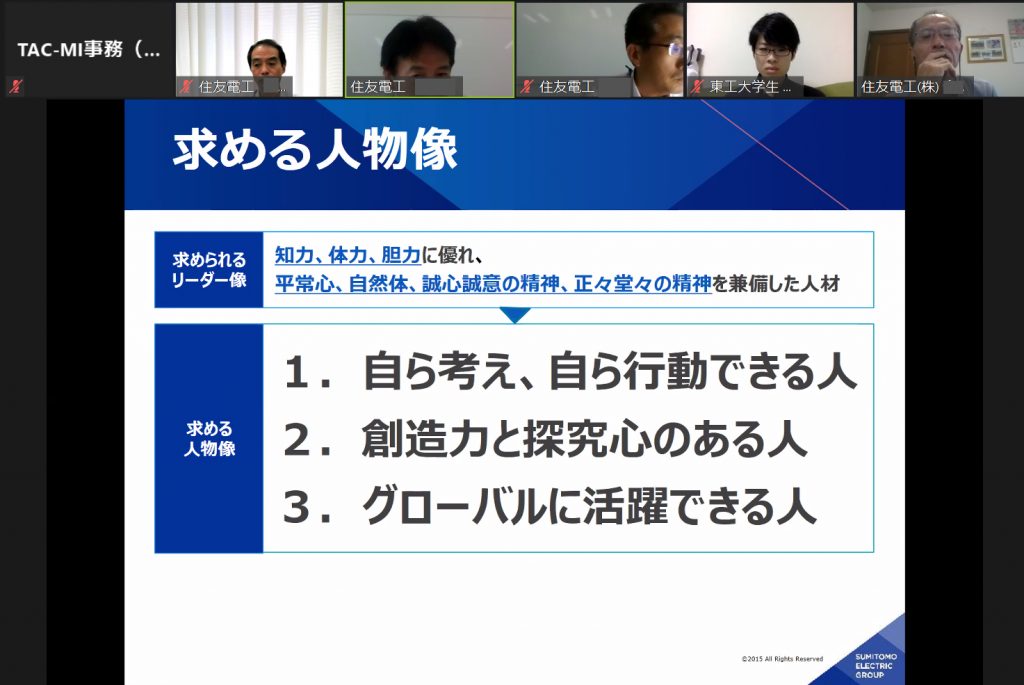 <Participating companies>
AGC Inc. / ASAHI KASEI CORPORATION / ENEOS Corporation /
Hamamatsu Photonics K.K. / JFE Steel Corporation / JX Nippon Mining & Metals Corporation / KANEKA CORPORATION / LG Japan Lab Inc. / Mazda Motor Corporation / Mitsubishi Chemical Corporation / MITSUBISHI GAS CHEMICAL COMPANY, INC. / NAGASE & CO., LTD. / Nissan Motor Co., Ltd. / ZEON CORPORATION /
SHOWA DENKO K.K. & Hitachi Chemical Co., Ltd.* (jointly)/
Sumitomo Electric Industries, Ltd. / SUMITOMO CHEMICAL Co., Ltd. / TDK Corporation / Toshiba Corporation / TOSOH CORPORATION / Toyo Seikan Group Holdings, Ltd. /
*Hitachi Chemical Co., Ltd. changed its company name to Showa Denko Materials Co., Ltd. on October 1, 2020.
Challenging yet fruitful online sessions to prevent the spread of COVID-19
Following the presentation of research findings by doctoral students in June 2020, this September event was also held online to prevent the spread of COVID-19. The latter also included an attempt to use Zoom breakout sessions, which would allow participants to move freely between rooms. This attempt was the first of its kind for many participants, and at first caused a certain degree of confusion. Gradually, however, everyone got accustomed to the new tools and thoroughly enjoyed the event. Online events brought about by COVID-19 require more careful preparation than face-to-face events, but are no less meaningful.
Through exchange events with companies, TAC-MI cultivates multi-talented individuals required by industry who apply a broad, global perspective to understanding new social services and innovating new ideas.