Objective and Overview of TAC-MI
Objective
The TAC-MI program is a seamless educational program provided throughout graduate learning. It aims to empower students to become multitalented individuals capable of promoting creative, interdisciplinary research in materials science and informatics.
The program, in collaboration with partners from industry and the National Institute for Materials Science, will enable students to connect information and materials* by utilizing information science and multifaceted thinking, as well as by taking a broad perspective.
Students will have the potential to become informatics experts, inventors of original materials, and creators of new industries.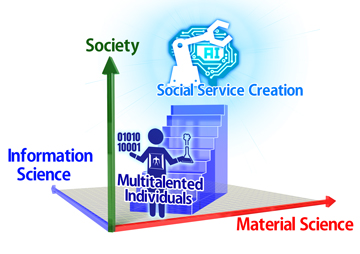 We expect our students to take a leading role in the 'complex space' of a transdisciplinary framework as multitalented individuals that includes materials science, information science, and services to society, pursuing a path toward sustainability.
* In this context, "materials" refers not only to material goods and chemical compounds but also to devices and processes.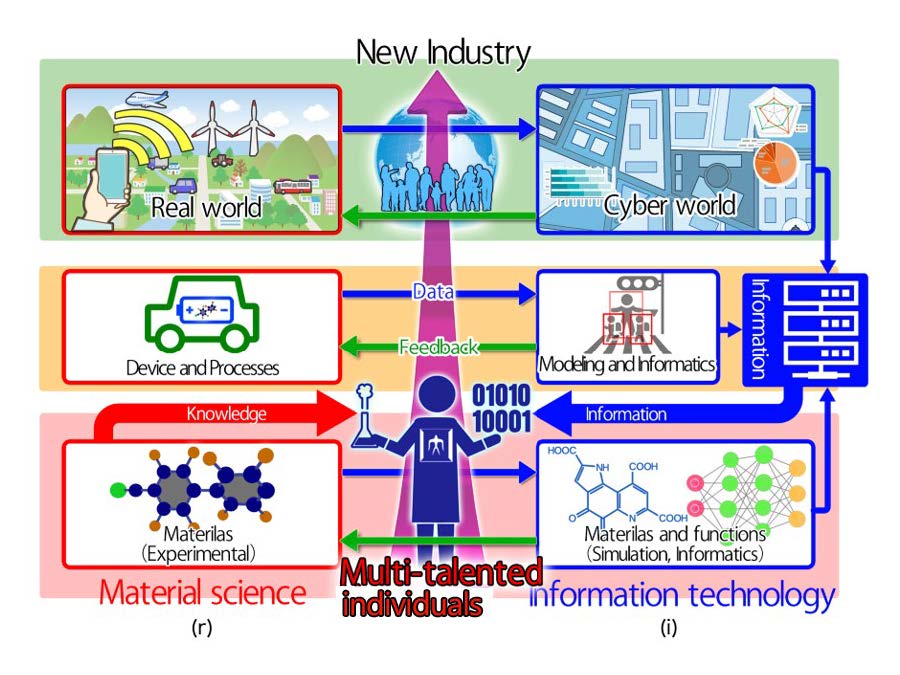 The program empowers students to think from a broad perspective free from a traditional classification of materials, devices/processes, and social services as they can easily cross the boundaries of "materials science" and "informatics". These individuals not only create new products and services, but are passionate about contributing to a sustainable society.
Overview
Cutting-edge facilities such as the Materials Research Center for Element Strategy andthe supercomputer TSUBAME, combined with the Institute's collective strength, will allow TAC-MI students to acquire the following four attributes necessary to become multitalented individuals , as well as experts in materials science and information science:
(1) Creativity: Ability to create methods and ideas involving materials science and information science
(2) Broad perspective: Ability to extract an essence by sifting through vast amounts of information, identify issues, and set goals
(3) Planning and execution ability: Ability to design and manage projects, spiraling outward and expanding from the atomic or molecular level to social innovation
(4) Global leadership: Ability to lead a diverse team, and to take the initiative in setting and implementing visions on a global scale
TAC-MI aims to create an environment that promotes interactions among students with diverse backgrounds and specializations. They are encouraged to exchange opinions and ideas in pursuit of a shared goal and take on interdisciplinary challenges.
The academy has designed the following ①-⑫ educational modules to help students develop the desired attributes as multitalented individuals:
(1)Originality
① Lectures on materials science and information science, emphasizing hands-on exercises
② Independent research project on materials science or information science
③ Self-designed thesis: By discovering and solving problems requiring interdisciplinary research, students will develop originality with a multifaced approach.
(2)Broad


perspec-




tive

④ Lectures on social service creation (cources designated by TAC-MI as a part of the educational program)
⑤ Business Model Training Camp
⑥ Industrial Mentor System: Students will learn how to extract an essence by sifting through vast amounts of information and identify social issues.
(3)Practical


ability

⑦ Practice School courses: Participants will work as a team and tackle cutting-edge issues facing companies.
⑧ TAC-MI Research Grant: In addition to self-designed thesis writing (see &#9314), students will become independent to find problems and to solve them.
(4)Global


leadership

⑨ Leadership development courses provided by the Tokyo Tech Academy for Leadership (ToTAL)
⑩ International internships
⑪ International forums on materials science and information science: Participants engage in collaborative group works.
⑫ International mentorship facilitating development of leadership and a global mindset
For details, refer to the TAC-MI curriculum.
Management System of TAC-MI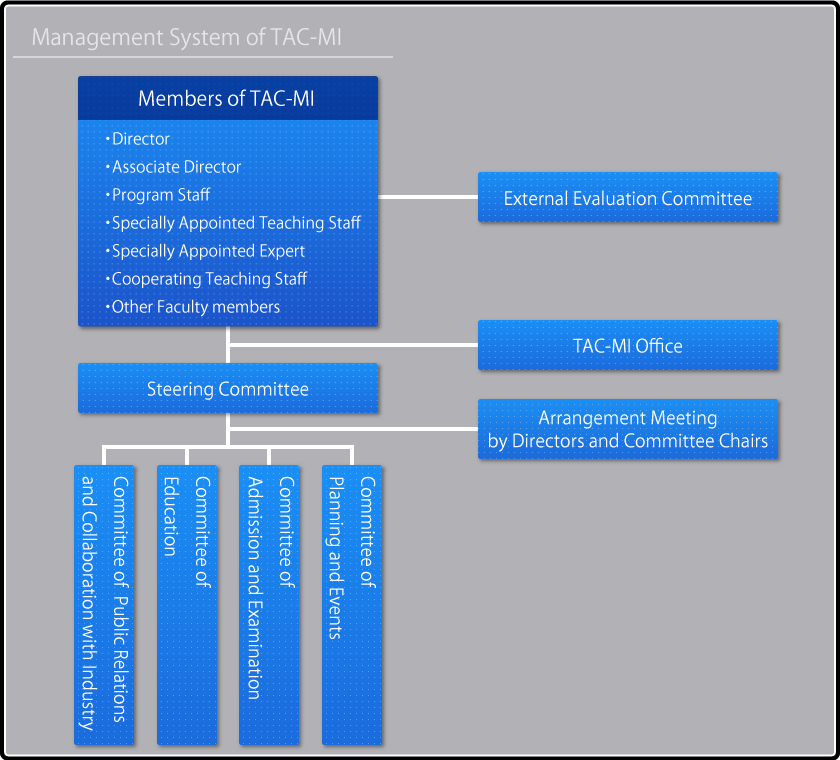 Messages from
Program Coordinator・Sub-coordinator
Messages from
TAC-MI faculty member